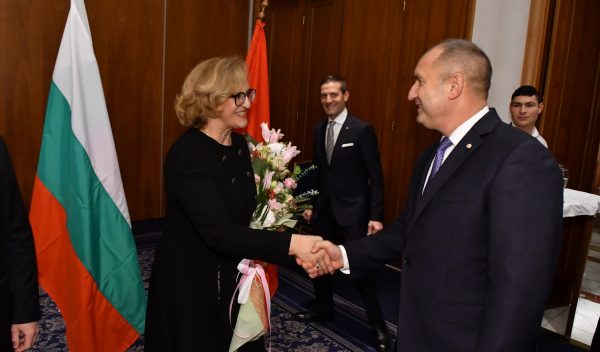 History of Diplomatic Relations with Bulgaria
On November 11 of 1994 the Sovereign Order of Malta and the Republic of Bulgaria officially established diplomatic relations. From the opening of the Embassy in 2005, all the activities of the Order of Malta in the country are carried out by the Embassy.
Bulgaria has been visited twice by the Grand Masters of the Order, The first time by Fra' Andrew Bertie, accompanied by the then Grand Chancellor Jean Pierre Mazery, in March of 2006 and the second time by Fra' Giacomo Dalla Torre in December 2019. On May 2009 the President of Bulgaria Georgi Parvanov was received on a State Visit to the Order of Malta in Rome; on May 2010 the Grand Master Fra' Matthew Festing received in the Magistral Villa the Bulgarian Prime Minister Boyko Borisso. The visit of the Vice President Margarita Popova took place in November of 2014, on the occasion of the twentieth anniversary of diplomatic relations between Bulgaria and the Sovereign Order of Malta.
Frequent meetings are held by the Ambassador with the Bulgarian authorities, the Apostolic Nuncio and the accredited Diplomatic Corps.
Donations, humanitarian and social projects
Over the years, the Embassy has been very active in donations and charitable projects in all the territory of Bulgaria. We have realized more than 500 activities in 100 places.
Activities include hospital equipment starting from the first specific device for children affected by cerebral paralysis "Nirvana" and a specific ultrasound device for pulmonary hospital. The Embassy has provided also ambulances, defibrillators, X-ray devices, beds, mattresses and different pieces of furniture. There have been also significant donations of computers and electronic devices to schools and refugee's centres.
The Embassy organized different charitable activities including the distribution of warm food to homeless, refugees and people in need during the cold Bulgarian winter months. Our volunteers have participated in the disaster relief campaigns after the major floods in 2014 in Varna and Mizia. Throughout the Pope's visit in Bulgaria in 2019 the volunteers of the Order of Malta assisted actively the pilgrims during public events.
In 2013 the Embassy has launched the Creative holiday's project, which aims to help disadvantaged children to socialize and grow through creativity, friendship and fun during their summer holidays. In 2022, the project has reached over 260 children from family-type accommodation centres from Sofia, Pazardzik, Peshtera, Panagiurishte, Karlovo, Montana, Gotze Delchev and Dupnitza, and the villages of Dren, Kichevo, Lisichevo, Zvanichevo.
In 2021, the Embassy started an orientation programme for children from institutions, which we support, with a mentoring and psychological service to facilitate their job search.
On the Ambassador's initiative, the Embassy started the Make a Wish project for disadvantaged children.